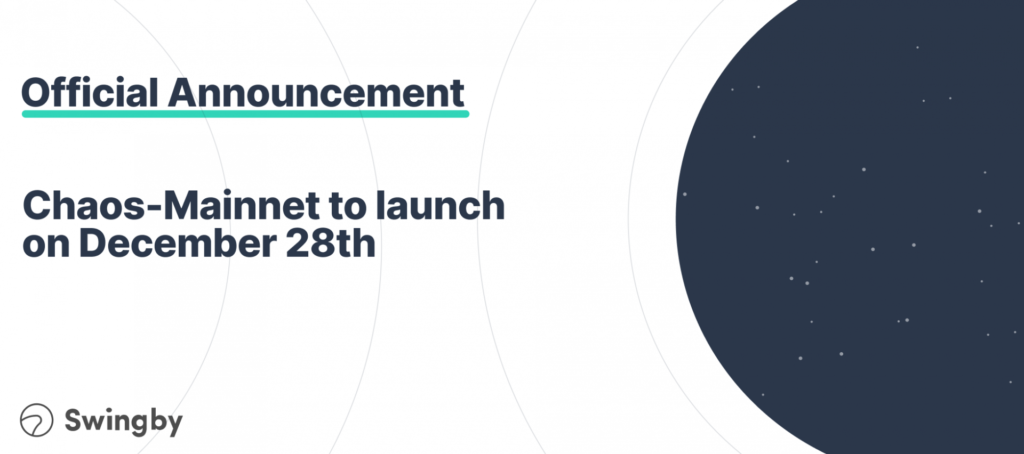 Singapore, Singapore, November 9, 2020, // ChainWire //
Swingby is the warp-speed protocol for inter-blockchain swaps. It allows all DeFi users to move assets between blockchains without a trusted party.
Today Swingby is announcing that its first mainnet network will be released on December 28; it will bridge native Bitcoins to Ethereum via Wrapped BTC (WBTC).
The first bridge allows the world's most liquid digital asset (Bitcoin), currently valued at a market cap of $ 300 billion, to be moved to the Ethereum network to tap into the $ 10 billion DeFi ecosystem.
"This launch will be crucial for Swingby. After December 28, Swingby will have a fully operational Chaos Mainnet network that will generate a tremendous amount of value for the world of DeFi and attract a large number of new users " – Yusaku Senga, CEO
Why is this big news for DeFi?
On December 28, Swingby is launched the first Chaos-Mainnet bridge, allowing users to easily move their bitcoins to WBTC on Ethereum without the need for a trusted party. Likewise, the bridge can be used in the opposite direction, allowing WBTC-ERC20 tokens to be moved back to native BTCs.
What's so special about it?
Unreliable: Swingby's Skybridge is the only way to reliably convert BTC into packaged Bitcoin (WBTC).
Easy to use: The Swingby bridge is designed to work with standard transaction types, eliminating complex smart contract calls and allowing the bridge to be used work with every wallet.
Community Rewards: Users willing to provide liquidity and governance to the Swingby Bridge gets part of the reimbursements for each exchange processed.
Discover the three main use cases of the Bitcoin to Ethereum bridge.
More news to come!
Leading up to the launch on December 28th, the team announces some important partnerships with projects that contributed to the creation of the Chaos-Mainnet bridge and some additional locations that will provide liquidity to the SWINGBY token.
To raise awareness of this event that will change Swingby forever, the team is organizing a series of questions and answers and giveaways for our superhero community.
About Swingby
Swingby Labs was launched in Singapore in 2018 by a group of crypto enthusiasts who joined forces to create the tools to connect Bitcoin to other blockchains.
Swingby's protocol, Skybridge, builds reliable bridges between BTC, Ethereum, Binance Chain and other blockchains, secured by a network of node groups performing fast token swaps using multi-party computing and Layer 2 technology.
Skybridge allows users to move Bitcoin tokens between the Bitcoin, Ethereum and Binance Chain blockchains without relying on a central custodian, opening up a whole world of DeFi possibilities such as liquidity pooling and DEX trading with easy-to-use UX.
Swingby plans to launch its Ethereum MainNet on December 28, bringing Bitcoin to an ecosystem that already has $ 10 billion in capital locked into DeFi contracts. Building on exciting partnerships with projects such as Elrond, Waves and Kira Protocol, Swingby is looking to expand its reach to other chains and projects, adding support where the most value can be added.
The Skybridge testnet bridge has handled more than $ 14 billion in testnet BTC capital between the Bitcoin and Binance Chain blockchains, and the decentralized technology has been fully tested in high volume live environments.
Contacts
Director
Jacob plaster
Swing by
jacob@swingby.network