CEO of MicroStrategy Michael Saylor says institutional interest in Bitcoin is snowballing. He predicts that in the coming year a deluge of companies will follow MicroStrategy's lead to put Bitcoin as one treasury strategy.
More interestingly, Saylor is claiming contact with at least a hundred private companies that have already implemented this strategy. Given the lack of disclosure requirements for private companies, they choose not to disclose this information.
"I think a lot of companies will be doing this in the next 12 months, and you're going to see more announcements. Because it is an idea whose time has come. I've seen a lot of interest, there are a lot of private company CEOs contacting me, and they've already done it, just don't make any announcements. "
Host Laura Shin called for details about these private companies. Saylor responded by saying they range in valuation from hundreds of millions to billion dollar companies. While his network is mostly made up of US firms, he said this is a pattern that is reflected across Europe, the Middle East and the Far East.
"Sometimes a billion dollars plus. I mean billion, multi billion, five hundred million, one hundred million. There are many companies in that good place. In general, everyone talks to everyone. "
$ 1.9 trillion incentive deal in the works, Cue Bitcoin as a hedge
MicroStrategy became the first publicly traded company to acquire significant shares of Bitcoin in August 2020.
Since then, CEO Michael Saylor has tirelessly preached about the virtues of buying Bitcoin. He has spoken at length about it, more so why he thinks it is the game to be made in these uncertain times.
A quote from a interview with Anthony Pompliano shortly after the initial acquisition of MicroStrategy, his argument summed up.
"The problem is I have a lot of money and I can see it melting away … [On investors] They're smarter than me, I'm not kidding, I'm serious, they're smarter than me. They knew before I knew that cash sucks and you are a fool to sit on the money. "
Months later, this is a message that is gaining steam in the mindset of people from all over the world. Moreover, the threat of inflation, economic stagnation and paralyzing deficits is becoming even more real, without the end of the money-pressure policy in sight.
Newly elected US President Joe Biden arrived at the White House a week ago today with plans for a new $ 1.9 trillion stimulus package. Mainstream outlets, including the FT, cast disdain at the plans. But what else can they do to keep the system afloat?
"The average person understands that there is no free lunch. The road to prosperity cannot be as simple as just print and spend. If he relies on low rates to fund further massive increases in government spending, Mr. Biden will double the policies that have exacerbated the problems he wants to solve: weak growth, financial instability and growing inequality. "
Bitcoin interest from institutional buyers is a business acknowledgment that things can get hectic in the future. The flood Saylor is talking about shows just how much self-preservation is becoming a priority for these companies.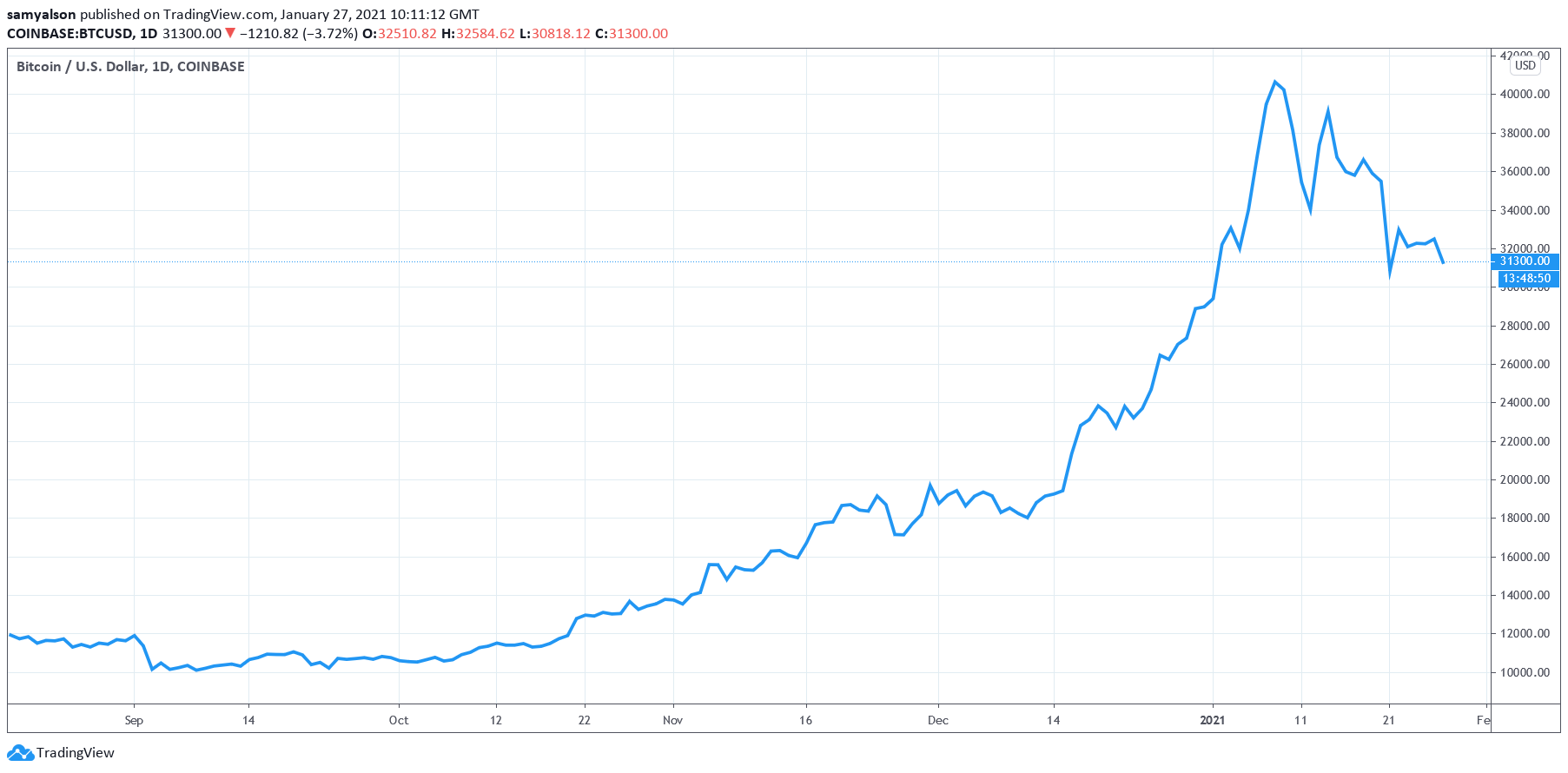 Source: BTCUSD on TradingView.com