At this point, one can accurately predict that blockchain technology is here to stay. In fact, it is also safe to say that the market is only just getting started as a massive disruption to the digital ecosystem is bound to happen in the coming years. Reports clearly indicate that blockchain technology is projected to create $ 176 billion in business value by the year 2025, with this number crossing the $ 3 trillion mark by the beginning of 2030.
The recent growth of the blockchain market has sparked some debate about ease of use, as optimal chain development and use is still proving to be quite difficult. There are solutions, which is why Prasaga is working hard on the creation of the DataGrid Blockchain through its subsidiary DGBLabs.
As part of this article, readers will learn about the current problems of blockchain, the value proposition of DataGrid Blockchain, the ongoing token sale, and the upcoming liquidity bootstrap pool on Balancer, which offers significant benefits to token holders.
How Blockchain Complexity Is Ruining The Market
The Crypto philosophy points to the creation of digital ecosystems that are reliable, friction-free and inclusive for users around the world. However, many of the blockchain's promises are destined to fail if the technology side of things is not addressed.
Blockchain protocols are difficult to get used to. This is mainly due to the serious learning curve that both users and developers have to go through. In response, this creates high barriers to entry that overcomplicate the promise of inclusive digital ecosystems. In addition, many of the current blockchains lack an optimal degree of scalability, resulting in slow transaction throughput that is not suitable for business purposes. Security is also a concern as millions of dollars worth of cryptocurrencies have been lost due to exploits and an incorrect understanding of how blockchains work.
Realizing the promised future through the DataGrid Blockchain
The DataGrid Blockchain (DGB) seeks to solve many of the pressing technology problems. With this in mind, the project development team created a working prototype that is easy to operate, resists attack, provides lucrative incentive mechanisms for contributors, and offers high-throughput transaction opportunities.
Unlike some of the market's other chains, DGB lives up to its promise to create a simple, inclusive, secure, and decentralized blockchain. To achieve this goal, the DGB team has redesigned smart contract programming, storage and certification. High performance is easily achieved with the addition of new on-demand resources, ensuring lightning-fast transaction speeds. Inclusive access is at the heart of DGB, so users retain open and decentralized access rights, as well as control over one's data privacy and individual autonomy.
One of the main selling points of the DataGrid Blockchain is its support for the eXtensible Blockchain Object Model (XBOM) operating system. XBOM was created to simplify blockchain development and scaling in an effort to make DGB suitable for most types of applications. To put this in perspective, XBOM can be referred to as a 'Decentralized GlobalOS', a system that runs directly on top of the DataGrid Blockchain.
Announcement of the ongoing DGT token pre-sale
Prasaga has invested more than three years of work in creating the DataGrid Blockchain. After meeting deadlines and patenting all innovations, the team has now announced the start of the private token sale. As a utility token, DGT will power the network and serve multiple use cases within the DGB ecosystem.
The The private sale began on January 22, and has been extended until February 13. After the current token sale is completed, DGBLabs will start a Liquidity Bootstrap Pool (LBP) for the DGT token on Balancer.
Understanding the Liquidity Bootstrap Pool
In short, LPB implementations are designed to exert downward price pressure within the token's liquidity pools to increase the price from the outset. In other words, the price of DGT will start relatively high and decrease over time thanks to automatic pool weight adjustments. For token buyers, this means that early participants will pay a higher price per token compared to those who choose to buy the token later. This leads to several positive effects for the token. For example, the LPB implementation is able to stop whales and bots from purchasing DGT tokens before the rest of the community has had the chance.
This creates an equal opportunity for everyone to purchase the tokens at an acceptable price, before the value is affected by the tremendous buying pressure typically created by bots and whales. The well-known fear of missing out (FOMO) has also been dispelled, as buyers can now choose to wait for the price to drop to an acceptable level before making a purchase commitment.
In the long run, the price of the token will grow organically, based on the laws of supply and demand. As such, the LPB implementation is only intended to serve the Balancer listing, without affecting the open P2P market later on.
Historical analysis has shown that projects that opt ​​for liquidity bootstrap pool implementations are generally able to raise significant amounts of capital, without dealing with dumps and thereby keeping the token price on an upward trajectory.
For example, Perpetual Protocol, a decentralized standing contract trading system, chose to rely on an LPB mechanism as part of the token sale, raising $ 7.5 million. APY Finance, a protocol designed to facilitate crop farming, used Balancer's LBP mechanism to raise more than $ 4.4 million, while later managing to invest up to $ 67 million in digital assets within its smart contracts. one hour.
Based on these aspects, it becomes clear that liquidity startup pools can be very beneficial for token sales, through fair distribution for actual project backers, better pricing and bot deterrence.
Participation in DGT Tokenomics and Token Sale
DGBLabs has revealed the tokenomics that apply to the ongoing token presale. Interested investors can currently purchase an ERC-20 version of the DataGrid token that will later be exchanged on a 1: 1 basis for tokens that are directly compatible with the DataGrid Blockchain. DGT withholds a $ 6 million soft cap and a $ 25 million hard cap, which will likely be insured given the value proposition of the project. After the community token pre-sale ends, the LBP will be released to allow proper pricing for at least 96 hours. Once this process is complete, DGT will be launched on a range of DeFi pools where anyone can buy the tokens at market price.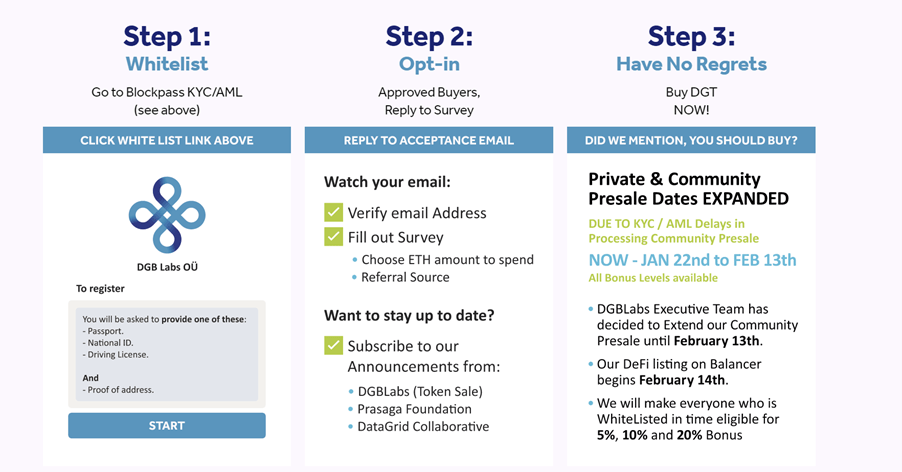 To participate in the community presale, potential buyers must follow three simple steps. Whitelisting is necessary, so a KYC / AML procedure will be performed via Blockpass. Candidates should keep a close eye on their email address as approved buyers are required to complete a survey. The final step involves purchasing DGT tokens at a favorable price that also brings variable bonuses depending on the user contribution.
Visit to sign up for the DGT Token Presale today https://www.dgblabs.io/